Neon Canyon & The Golden Cathedral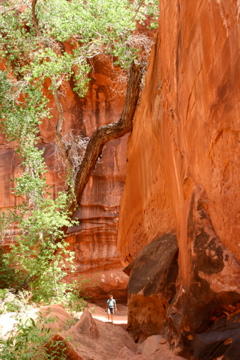 I guess it must be me, but I can never understand why people fly to the South West and just hit up Vegas. It's glitzy, I'll give you that, but a mere 300 miles to the North-East, in Utah, is a small town called Escalante. It sometimes has a shortage of fresh fruit and veg, but the people are awesome friendly, and the town itself sits on the edge of the Escalante Grand Staircase (note: not an actual staircase but 1.9 million acres of protected land). At any rate, we passed through there in 2010, and discovered one of the highlights of our trip, Neon Canyon. A short trip to the BLM Office in Escalante will get you directions. You find your own way across the desert, drop down into a canyon cut by a river, and after a while you'll hit Neon Canyon, a side canyon. Probably one of the most amazing hikes of my life. Trust me, forget about Vegas. See this place instead.
Just a few notes though:
Take plenty of water (obviously)
Consider long pants. You have to navigate down the river for a while, and the horse flies are vicious. They're like aliens running around in the space ship air ducts, busting through the walls, and eating the crew alive – vicious. They're not in the canyon though.
I did it in my shoes. Man, I wish I had done it in my sandals.
We had a GPS as a safe guard to our map navigation skills.
---
Map